J SUCH SVCH SJCH DKCH C.I.B.*
Landsbygdens Retur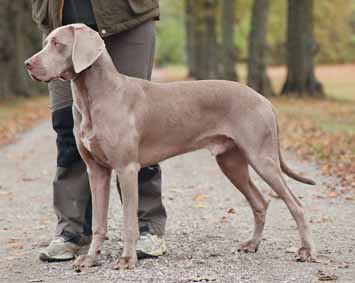 Född / d o b : 2006/Apr/06
HD / Hips: A, AD: ua
Uppfödare / Breeder: Pontus & Helena, kennel Landsbygden
Ägare / Owner: Elisabeth Beskow, Woksebs kennel
Utställning: 4x Cert, CAC (DE), R-CAC (DE), 2x BIR, 3x BIM, 3x CACIB, R-CACIB, BIG-3
Show: 4x CAC, CAC (DE), R-CAC (DE), 2x BOB, 3x BOS, 3x CACIB, R-CACIB, BIG-3
Viltspår: Godkänd anlagsklass, 3x 1 pris + 1x 2 pris ökl
Bloodtracking: passed "novice-class", 1x 1st prize + 1x 2nd prize openclass
Eftersöksgrenar: Ukl; vatten 9, spår 10. Ökl; vatten 10, spår 10. Ekl: vatten 10, spår 10, ruta 10.
Water- and trackingtest: Youthclass; water 9, tracking 10. Openclass; water 10, tracking 10. Elit-class; water 10, tracking 10, retrieving 10.
Jaktprov: 2:a pris Ukl fält, 5x 2:a pris Ökl fält, 1:a pris Ökl fält. 1x 3 pris ökl fält odelat prov. 1x 2 pris ekl fält.
Huntingtests / Fieldtrials: 2nd prize youthclass, 5x 2nd prize openclass, 1st prize openclass, 1x 3rd prize openclass. 1x 2nd prize elit-class.
Övrigt: Klubbmästare e-sök 2007, bästa öppenklasshund vid KM 2007, Weimaranermästare 2007, genomförd mentalbeskrivning
Others: Clubchampion water and tracking 2007, best openclass at the Sw. WeimClub Clubchampionships 2007, Sw WeimClub Clubchampion 2007, passed mentaltest

NISSE kommer ur en kull om 8 valpar, varav följande fakta finns om hans sju kullsyskon:
Nisse is from a litter of 8 puppies, following facts about his seven littermates:
L. Riva, t: HD A, ad ua, utst: CK, genomf mentalbeskr
L. Raaija, t: HD B, ad ua, utst: 1 pr, genomf mentalbeskr
L. Rissa, t: HD A, utst: 2 pr
L. Rekord, h:
L. Rebell, h: HD A, ad ua, utst CK, genomf mentalbeskr
L. Rekyl, h:
L. Rask, h: HD A, ad ua, utst 1 pr, genomf mentalbeskr
NISSE är en härlig hund! Han visade tidigt ha en mycket stor potential; härlig jakthund med en härlig mentalitet och ett skönt yttre. Idag är han multichampion! Redan som unghund lärde vi känna NISSE och han vann SWeiKs Weimaranermästerskap 2007. Tack Elisabeth och Anders, för att vi får möjlighet att använda NISSE!
NISSE is a lovely male! He showed early a great potential; he is a lovely huntingcompanion with a sound temper and has a nice exteriour. Today, he is a multichampion! We learned to know NISSE as a youngster, and he won the SWeiK WeimaranerChampionships in 2007. Thanks, Elisabeth and Anders, for letting us use NISSE!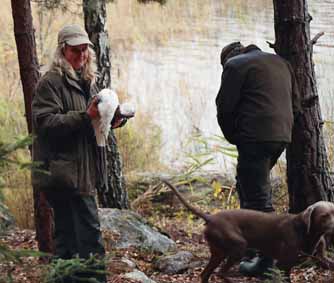 Elisabeth och Nisse på vattnet på SWeiKs Weimaranermästerskap 2007.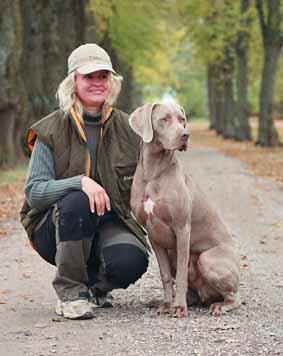 Elisabeth och Nisse.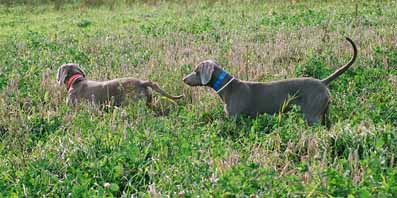 September 2007. Nisse och vår egen Pimm; straxt blir det fågel i luften!
J SUCH
Landsbygdens Retur
HD A, AD ua
SVCH J SV-04 SUCH
Woksebs Nimbus
HD B
J SVCH
Graenit´s Raidin´The Fridge
HD ua
USFTCH USCH
Jo-Ron´s Silber Elch
UD TD MH
USCH
Bama Belle´s Mountain Man
Greysport Duchess of Grace
USCH
Graenit´s Rushin´Roulette
USCH
Arimarlisa Arkansa v Graenit
USCH
Graenit Piper von Grayshar
J SV-01
Mimmtrix Nessie
HD ua, AD ua
Ansona Beretta
IECH GBSHCH
Gunalt Harris Tweed
GBCH
Joanscroft Bassoon Bertha
SV-98 NORDV-99 AUCH
Britfeld Poetry in Motion
HD ua
AUCH
Yland Keepth Carbon
AUCH
Britfeld Give It To Them
SVCH
Woksebs Moa
HD A
J
Rasmiz Storm Cloud Zakova
HD ua
SV-91 SV-94
Aramis
HD ua
Mattis
HD ua
Nurki
HD ua
Huntman´s Anki
HD ua
Brutus
HD ua
Fälherrens Frau Blücher
HD ua
J NORDUCH
Woksebs Lavendelle
HD ua, AD ua
KBHV-95 DKUCH
Hermes De Beauvois

FRCH
Lewwellyn Des Ducs dÁrgent
Dixie
J LP I
Libalele
HD ua
SV-95 LP
Herbert
HD ua
Tandi
HD ua
NISSEs stamtavla är en mycket intressant mix - i den finner vi många framstående hundar från Sverige, England, Australien, USA och Frankrike. Av dessa 30 hundar är 15 jaktmeriterade!
NISSEs pedigree is a very interesting mix - we find many great dogs from Sweden, England, Australia, the US and France. Out of these 30 dogs, 15 of them have prizes from fieldtrials/huntingtests!